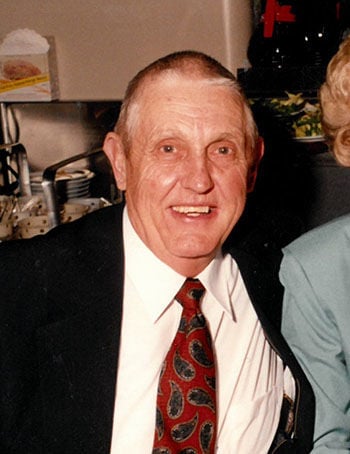 Robert Franklin (Bobby) Ware
Trenton, KY – Mr. Robert Franklin (Bobby) Ware age 91 of Trenton, KY passed away Thursday November 15, 2018 7:40 p.m. at his residence of natural causes. Services will be Tuesday November 20, 2018 11:00 a.m. at Trenton Baptist Church in Trenton, KY with Rev. Dean Anderson officiating. Burial will follow in the Edgewood Cemetery. Visitation will be Monday November 19, 2018 from 5:00 to 8:00 p.m. at Trenton Baptist Church in Trenton, KY and from 10:00 a.m. until the funeral hour at 11:00 a.m. at the church on Tuesday. Latham Funeral Home of Elkton, KY is in charge of arrangements.
Mr. Ware was born March 13, 1927 in Trenton, KY. He was a Businessman and Grain Dealer and Past President of W. F. Ware Co, Inc. Mr. Ware had served as a Bank Director of United Southern Bank, member and past President of the Trenton Civic Club, Board Member and Mayor of the city of Trenton, volunteer with Trenton Fire Department and Director of the Popcorn Institute in Chicago, IL. He was the Valedictorian of his graduating class at Trenton High School and attended University of Kentucky. He was a member of Trenton Baptist Church where he taught Sunday School. He is preceded in death by his wife Rosa Belle "Pie" Bouldin Ware in 1985, his parents, William Franklin Ware and Martha Graham Ramsey Ware, his brother William Edmund Ware and his sister Rosamond Ware Damron.
He is survived by his daughters Denise (Jerry) Stuard and Leigh (Barry) Groves all of Trenton, KY, his grandchildren Ramsey (Hank) Dallam, Robert (Sarah) Stuard, Keith (Kelley) Groves and Molly (Taylor) Stark, his great grandchildren Caroline Groves, Sawyer Groves and Isabelle Dallam.
In lieu of flowers the family asks that donations be given to Trenton Community Center, P.O. Box 27, Trenton, KY 42286 or Trenton Baptist Church, P.O. Box 191, Trenton, KY 42286.
Source: The Leaf Chronicle on Nov. 18, 2018