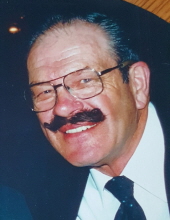 Age 77, of Morrice, passed away Sunday, Jan. 7, 2018, at the Shiawassee County Medical Care Facility.
Funeral services will take place at 11 a.m. Thursday, Jan. 11, at Nelson-House Funeral Home with the Rev. Don Wentz officiating. Burial will follow at Howard Cemetery.
The family will receive friends at Nelson-House Funeral Home from 2 to 8 p.m. Wednesday.
Bill was born Jan. 31, 1940, in Durand, the son of John and Augusta (Hansen) Ware. He graduated from Morrice High School in 1958.
Bill loved being outdoors in nature, cutting wood, hunting, and riding on his John Deere tractor. He married Mary Wing in Owosso Oct. 17, 1964. Bill retired from Blight Oil Company as a truck driver after 35 years of dedicated service.
He is survived by his wife Mary; children Lori (Dan) Ritter, James Ware and Christine (Allan) Cole; five grandchildren; one great-grandson; brother Robert (Dorothy) Ware; sister Phyllis Lohr; and several nieces, nephews and other loving friends and family.
Bill was predeceased by his parents.
In lieu of flowers, memorial contributions are suggested to Alzheimer's Association or charity of the donor's choice.
Source: Argus-Press, The (Owosso, MI) – Tuesday, January 9, 2018