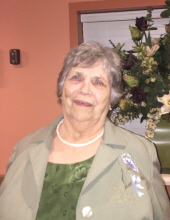 Mrs. Barbara Jean Cole Ware Brown, age 83, of Rome passed away Friday, May 4, 2018 at Pruitt Health Care of Rome.
She was born Feb. 4, 1935 in the Flint Hill Community. Mrs. Brown was preceded in death by her parents, Henry Arvil Cole and Cora Lee Baker Cole. She was also preceded in death by seven brothers and sisters: by Thomas Ware, father of her children, and husband Allen Brown.
She was raised in the Flint Hill and Wax Communities and attended Harmony School. Mrs. Brown was a CNA and worked for over 40 years in local Nursing and Personal Care Homes. Her life's work was dedicated to helping others.
Mrs. Brown was saved into the family of God and Baptized into the Wax Baptist Church Family at the age of 24. She was later an organizing and charter member of Harmony Baptist Church. In recent years she attended Cross Pointe Church.
She was a member of Lindale Chapter No. 265 Order of the Eastern Star where she was a past Worthy Matron and had filled many stations.
Mrs. Brown was also a dual member of the Rockmart Chapter No. 321 Order of the Eastern Star, where she had been associate Matron and filled many stations. She was a member of the Amaranth at Fidelity Court No. 6 where she was past Royal Matron and filled many other stations.
She was the last surviving child of Arvil and Cora Lee but leaves two sons to carry on her family. Newton Grier Ware and wife Almeda of Wax. Granddaughter Rainece Dupree and grandson Levi Ware. Great granddaughter Kaylin Dupree whom she dearly loved. Richard Gregory Ware and wife Stella of Rome. Granddaughter Nikki Thornton and husband Michael, great grandchildren Keith, Raiden and Tailon Thornton.
She is also survived by numerous nieces, nephews, cousins and friends.
The family received friends on Monday, May 7 at 1 p.m. in the Cross Pointe Community Church, Highway 101, Aragon.
Funeral services followed the visitation at 2 pm. in the Cross Pointe Church with Rev. Gary Diggs officiating and Lindale Chapter No. 265 providing Eastern Star Rites. Interment followed in the Pleasant Hope Baptist Church Cemetery.
Nephews and Great Nephews served as Pallbearers.
The families may be reached at their respective residences.
The Alvis Miller and Son Funeral Home was in charge of funeral arrangements for Mrs. Barbara Jean Cole Ware Brown.
Mr. Youngblood
Source: Polk County Standard Journal, The (GA) – Wednesday, May 16, 2018