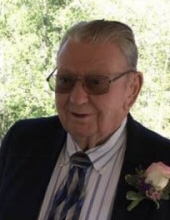 The Rev. Johnny Barkley Ware III, 85, died suddenly Saturday afternoon (Aug. 3, 2019) at his residence in Waycross.
He was born Nov. 27, 1933 in Norcross. He served in the United States Army during the Korean Conflict for four years. Following his military career, he attended Southeastern Bible College in Birmingham, Ala. for four years and received his ministerial degree.
He began his ministry at Williams Chapel Baptist Church in Waycross and served as a minister in numerous churches and missions for 55 years. He was also employed as a master plumber and inspector for Gwinnett County.
He was a member of Calvary Baptist Church in Waycross.
He was preceded in death by his parents, Johnny Barkley Ware Jr. and Helen Newman Ware, and his brother, Larry Ware.
Survivors include his wife of 67 years, Della Frances Ivy Ware, of Waycross; three children, son, Douglas Keith Ware Sr. (wife, Jan), of Mershon; daughter, Diane Ware Ewing (husband, Gary), of Hickory, N.C., and son, Craig Barkley Ware (wife, Sun Ok), of Aurora, Colo.; six grandchildren, Keith Ware Jr., Wesley Ware, Cameron Ewing, Landon Ewing, Alicia Phillips and Brandon Ware; six great-grandchildren, Joshua Phillips, Jacob Phillips, Nicco Ware, Delila Ware, Weston Ware, and Kilian Ewing; two siblings, Jimmy Ware (wife, Rita), and Carol Elliott (husband, Bob); and numerous nieces and nephews.
A funeral will be held 11 a.m. Thursday at Bristol Baptist Church.
Burial will follow in Bristol Baptist Church Cemetery.
The family will receive friends at the church beginning at 10 a.m. Thursday.
In lieu of flowers, memorial contributions may be made to Mary Street Mission, 517 Mary St.,Waycross, Ga. 31501.
Music Funeral Home is in charge of arrangements.
Source: Waycross Journal Herald (GA) – Monday, August 5, 2019