NEW INFORMATION IS CONTINUALLY BEING ADDED.

Before I begin the multi-generational saga of this Ware line and their relationship to Belle Grove, I want to credit the search for their ancestral connections to many hours of work, by these willing contributors, Conrad Wayne Ware, Marti Martin, Judy Ware, Ray Ware, Wayne Ware, a daughter of John Stone Ware, Don Ware, youngest son of John Stone Ware, and other contributors. The lineage of the Wares of Belle Grove can be traced back to Peter Ware, who is thought first stepped on Colonial soil, and this branch descends from one of his sons, etc., etc., etc. Knowing that some documentation no longer exists, the preponderance of evidence for the true lineage rests with the continued use of certain names passed down through the generations. Sometimes my tale is pure speculation, but I have been encouraged by the above named people this is the right path.
You may have already read the Will of John Garret posted earlier and which can be found in our Archives. It is a loose translation, but the gist is there. Henry Ware Sr. and Henry Ware Jr. were witnesses. Remember those names because you will see them again, along with the name Garrett. The Garrett and Ware line are as intertwined as many other families, and dissecting colonial heritage may mean a trip to the medicine cabinet for that bottle of aspirin.
"…Edward Ware, b. 1724 and Lettice "Letty" Powell. Edward was brother to Henry Ware, SR. b. abt 1726, who married Martha "Patsy" Garrett. And, John Garrett Ware, b. abt 1752, and grandfather of Henry B. Ware,…" Genealogy courtesy of Wayne Ware.
I credit Wayne with giving me the name of John Garret Ware, grandfather of the first Ware owner of Belle Grove, Henry B. Ware. (I had been stuck for days trying to decide between Nicholas Ware, son of James and Agnes Todd Ware, and another John Ware, who it was said to have been married to one Mary Moss.) I chose John Ware Garrett, because future use of the Garrett name made more sense.
From then on the quest became easier, because there was documentation, mainly from a letter Conrad Wayne Ware found attached to a Family Tree on Ancestry, information about John Garrett Ware's granddaughter, Sarah Jemison Ware Medlock, provided by Ray Ware, letters written to Lucy Ware Webb Hays, in the possession of Judy Ware and some real "digging" by Marti Martin.
The following letter was found on Ancestry.com and attached to the Kirkham Family Newsletter – No. 9 – October 1986 – Editor: Steve Kirkham, Grafton, VA. (I have permission of the Mr. Kirkham to reprint the letter.) The letter sketches some of Henry's history, however, he was not related to Lucy Ware Webb Hayes, the wife of President Hayes.
"EXTRACTS FROM LETTER – DATED 11 JUNE 1894
Henry Ware to his daughter Elizabeth (Ware) Mitchell
…As to my relatives; my father had one brother older than himself, his name was John, my father's name was Thomas. They had one half-sister. John and Thomas were left orphans at the close of the Revolutionary War. My father was 16 years old at the time, and was raised by his uncle, Robert Ware, who immigrated from Maryland, (after the war) to Lincoln County, Georgia, where my father became a man.
He married my mother either in Lincoln County or Twiggs County, Georgia, I don't remember which. My Uncle John immigrated to Kentucky at an early day, became a large property holder, and raised a large family of children. He visited us in Georgia, when I was about 8 years old. I remember his saying he could out-run, out-jump or thrown-down any man whose wife had thirteen children. I have met some of his grand-children. I have been informed that Mrs. Ex-President Lucy Hays, that noted temperance worker, was his grand-daughter – her mother was a Ware." (Interjection, her grandmother was Lucy Catherine Ware who married Capt, Isaac Webb.) "I know but little of my father's relatives.
My mother was a Jemsion, her name was Sarah, she died in Greene County, Georgia when I was 4 years old. I have a very indistinct recollection of her. She had two sisters. Elizabeth married William Kirkham. …
(Note: Henry Ware, the author of this letter, was the youngest child of Thomas Ware and Sarah Jemison.)
(Note: The original copy is in the possession of Judy C. Ware.)
(Note: We have done a lot of searching , but at this time cannot determine the location or lineage of his uncle, John Ware, who went to Kentucky. Perhaps, someone reading this, might be able to fill in this information.)
Ray Ware supplied a biography of Henry's older sister, Sarah Jemison Ware. It was sent to him years ago by a lady named Sandy Watson. The biography is lengthy and detailed, but at this time I only wish to add an excerpt from the beginning.
"Sarah Jemison Ware was the daughter of Sarah Jemison and Thomas Ware. As her father's records show him in Greene County, Georgia prior to her birth on November 24, 1807, it is assumed that is where she was born, Her mother is known to have died in Green County about 1817. This is known from a letter written by her young brother, Henry, to his daughter in which he says his mother died in Greene County 'when he was bout four years old.' Henry's birth date is known to have been in 1813." Sarah married John William Medlock and had many children, but her life was filled with sorrow. The rest of her story is for another time.
Bruce and Ruth Bridges list the children of Thomas and Sarah Jemison at:
http://familytreemaker.genealogy.com/users/b/r/i/Bruce-Bridges/WEBSITE-0001/UHP-0062.html
1. +Margaret Garrett Ware, b. 1804, Lincoln, GA, USA, d. 1858, AR, USA.
2. John Ware, b. 1798, Lincoln County, GA, d. Abt. 1864.
3.+Jemison Ware, b. Abt. 1800, Lincoln County, GA, d. July 20, 1863, Calhoun Co. AR, USA.
4. Robert Ware, b. 1802, Lincoln County, GA, d. Abt. 1858, Arkansas.
5. +Elizabeth Kirkham Ware, b. August 1805, Green County, GA, d. March 28, 1875, Colorado County, TX.
6. Sarah Jamison Ware, b. November 24, 1807, Green County, GA, d. December 16, 1883, Atlanta, GA.
7. Ezekiel P. Ware, b. 1810, Green County, GA, d. 1850.
8. +Henry B Ware, b. July 29, 1813, Greene, GA, USA d. July 06, 1898, Pass Christian, Harrison, MI.
(Note, the Garrett name. Also Margaret's name is repeated as Martha.)
After Sarah Jemison died in Greene County, Thomas married Phoebe Peeler and several more children were born to that union. According to Bruce Bridges, when Pheobe died, Thomas moved to Texas. He married twice more and died in Colorado, Texas, January 19, 1859.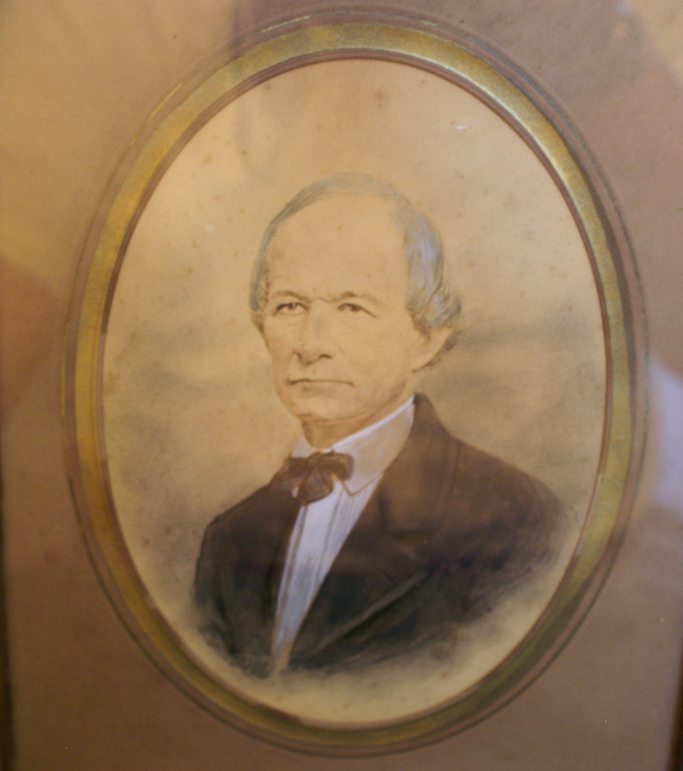 Henry Ware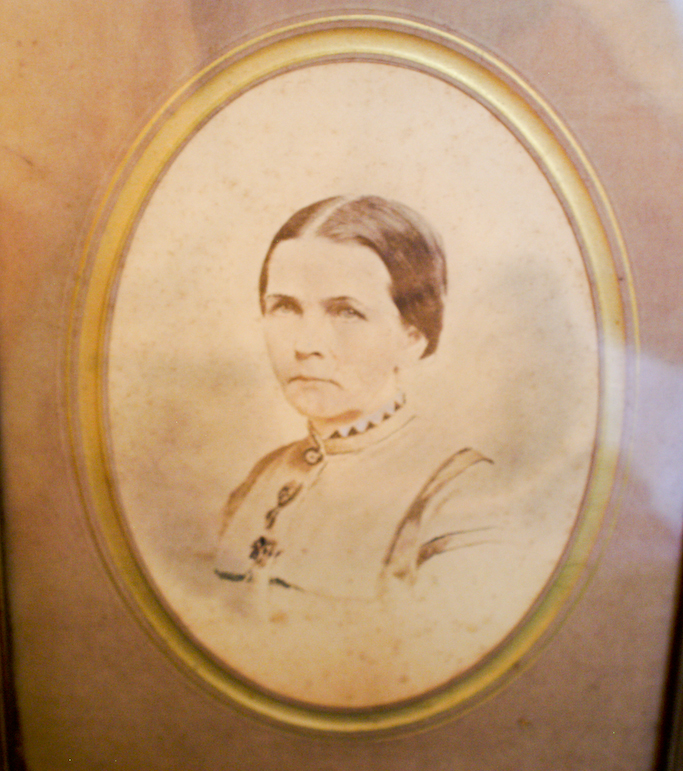 Martha Ann Everett
Photos property of Henrietta Ware McArdle, great-granddaughter
"Henry Ware, planter, industrialist, Democratic politician, and prohibitionist, was born in Green County, Georgia, on July 29, 1813. He married Martha Ann Everitt on November 23, 1837, and the couple settled in Chambers County, Alabama, where the first four of their five children were born."
(Note: Thomas Parks, born 28 Aug 1838; Frances Asbury, born 10 Sept 1840; William H., born 1843; Margret Elizabeth, born 1846. Three sons were born in Texas, James in 1847, Robert, 19 Apr 1849 and John, 1857.) (Two other children were provided by Don Ware, Laura, who died young and Richard N.)
Photo of Henry Ware Plantation House approximately 9 miles southeast of Marshall, Texas, on Blocker Rd., called Cedar Grove.
Photo provide by the great-grandson of Henry Ware, Don Ware.
"In 1846 Ware and his family moved to Texas; they lived in Colorado County for a year before settling in Harrison County, where Ware established a plantation a few miles south of Marshall. By 1860 he had become on of the most prosperous planters in the region. In addition to his plantation he also became involved in several manufacturing ventures. During the 1850's he invested $10,000 in a steam-powered textile mill that in 1860 employed six men and seven women to produce 45,000 yards of cotton and woolen cloths, including linseys, kerseys and tweeds. Ware also operated a tanyard and a small shoe factory. Much of the merchandise was sold to other planters in East Texas and western Louisiana. The Marshall Texas Republican ran Ware's advertisement for 'Superior Negro Clothing, Blankets and Shoes.' Ware initially supported the Southern cause during the Civil War , but in 1864 he publicly advocated that the Southern states should end the war through a 'peace convocation.' A public meeting was held in Harrison County in February 1865 to discuss the issue, but only two or three of those present agreed with Ware, and the matter was dropped. After the war Ware ran for election as a delegate to the convention to bring Texas back into the Union. He declared that seccession had been wrong, argued that the freedmen deserved fair treatment and education, and advocated that blacks eventually be given the right to vote. His opponent John Burke, attacked Ware as a traitor to the white man, but the election was surprisingly close; Burke received 162 votes to Ware's 146. Shortly thereafter, Ware moved to New Orleans, where he engaged in various businesses. Around 1870 he moved to Iberville Parish, Louisiana, and established a sugar plantation. In 1879 he bought a house in Pass Christian, Mississippi, on the ocean. There he lived for the remainder of his life. He married for a second time in 1880 to Lou Fort. In his later years Ware became involved in the prohibition movement and in 1888 worked to place an antidrink plank on the platform of the national Democratic party. He also devoted some of his considerable wealth to support of the Woman's Christian Temperance Union and other similar organizations. He died at Pass Christian on July 9, 1898."
Source: Randolph B. Campbell, A Southern Community if Crisis: Harrison County, Texas, 1850-1880 (Austin: Texas State Historical Association, 1983). Vertical Files, Dolph Brisco Center for American History, University of Texas Austin.
Henry was one of several who endorsed the this value of this machine to the grower.
THAYER, HOUGHTON, & CO.
MANUFACTURERS OF
Machinists' Tools of. all Kinds,
OF THE BEST STYLE, FINISH, AND WORKMANSHIP,
WORCESTER, MASS.
Henry Ware, of Marshall, Texas was listed by the Thayer and Hourton Co., of Worcester, Massachusetts as a user of their machinery in this advertisement in the The Massachusetts Register of 1862.
The following article was contributed by Wayne Ware and details a bit more of Henry's time in Harrison County, Texas.
"NOTE FROM DEAD" UNDER WINDOW SILL.
Tolbert's Texas
Dallas Morning News, 1965.
"One of the ornaments of the Harrison County country side is the Henry Ware plantation house between Marshall and the City of Elysian Fields. The brick mansion it even has brick walls between the rooms begun in 1846 and finished in 1852 under the direction of a builder from England, John Y. Morgan. The old house have been loving restored by its present owners, Mr. and Mrs. John Blocker Ware.
John Ware is a great grandson of Henry Ware. And the name of the English builder, John Morgan, would probably be lost to recollection if John Ware hadn't found a "message" from Mr. Morgan under a window sill in one of the downstairs rooms.
John Ware was having a window by one of the eight fireplaces in the manor cut down for a door. Under the window sill a workman noticed a clean pine board with an inscription on it. The dim writing, probably done with a carpenter's pencil, reads: 'October 22, 1852-This day I am 40 years old – in commemoration of which I make this deposit. Tho ere this is seen the hand that wrote it may be cold in death – But the curious hear learn the builder of this house. And be you who may remember you will have to dye. (Signed) John Y. Morgan – Built for Henry Ware.' "
(The article continues, but before I relate that, I will explain something of the lineage of John B. Ware, according to Wayne Ware. Henry Ware gave Oak Grove, his first plantation in Texas, to his daughter Frances Asbury Ware who married E.B. Blocker. Their daughter Martha Elizabeth Blocker married Jewel Luther Ware. Their son was John Blocker Ware, which makes John Blocker Ware the great-grandson of Henry B. Ware through his mother's side.)
" HENRY WARE had a glamorous daughter named Frances, who became the wife of a premier Marshall physician, Dr. E.B. Blocker. The 19th century Mr. and Mrs. Ware had no trouble checking on the goings and comings of their beautiful daughter. The only entrance to the girls upstairs bedroom was by way of a stairs which descended into a closet opening into the parents bedroom.
The arrangement wasn't just to keep a check on a teenage daughter though said John Ware, a fellow with a keen historical sense. 'When this old house was completed it was on the frontier. And Henry Ware felt his daughter was safer because the stirs to her room was in his and Mrs. Ware's closet.'
The stout old mansion was originally called Oak Grove though there are now mere gigantic walnut trees in the yard than oaks. Henry Ware in the 1840's and 1850's had an industrial complex around the plantation. He built what was said to be their first woollen mill in Texas. He also had a tannery and a shoe factory, in addition to the usual grist mill an cotton gin on the big plantation. His woollen mill and shoe factory was one of the best producers for the Confederate Army during the 1861-1865 War. And, unlike many plantation owners, Henry Ware emerges from the States War a rich man, mainly because he had immense cargoes of cotton headed for England just before the conflict.
He gave the grand old house near Elysian Fields to his daughter Mrs. Blocker. Then old Henry bought a still grander, Belle Grove on the Mississippi River between Baton Rouge and New Orleans. Belle Grove, a pile of marble and brick said to be the most expensive house on the Mississippi, is gone now. But the manor built near Elysian Fields, which John Morgan finished on October 2, 1852 looks to be good for another 113 years."
Friends of Belle Grove Plantation website
Prior to the seizure of the cotton that was left on the docks, Henry Ware sent the last shipment of cotton to England before the port was closed by the Yankees, according to his great-grandson, Don Ware.
Henry had to fight the Federal Government for the return of his cotton that was seized at the end of the Civil War. On December 1, 1865, 758 bales of cotton were delivered to a warehouse in Shreveport, Louisiana. The cotton "was of good quality, and in excellent order, and reasonably worth at the time at least 50 cents per pound; that all of said bales were legibly marked with" the initials of Henry Ware and could be easily read.
R.G. Curtis, Special Agent for the Treasury Department seized 370 bales and was about to ship them to New Orleans, when Henry's lawyer intervened and filed a writ of sequestration and the bales were put in the hands of the sheriff of Caddo Parish. The military seized the cotton and presumably shipped it on the steam-boat Beulah to be housed in a federally controlled warehouse on New Orleans. On January 3, 1866, 300 bales of the total were shipped on the steam-boat, Beulah, 70 on the Hattie Cook and on January 15th, 130 bales were shipped on the Mattie Cook; 500 bales in all.
The rest of the cotton was shipped via Cutris' order to O.H. Burbridge, special agent for the Treasury Department, in New Orleans. Curtis shipped the remaining 258 bales to New Orleans on Jan 10th, 1866. 150 bales were shipped by the Cotile and 108 bales were delivered to the military by the same steamer, January 12, 1866.
The cotton was stored in a warehouse used by the Federal government and under the control of Burbridge, Jermone Bradley & Co. On March 6, the cotton was ordered to be released to Henry provided he pay "charges in the amount of $15,700, give bond for $300,000 to hold the Government and the agents harmless, and sign clear receipt for the cotton as in condition when it was taken from him." Henry initially refused, but to prevent from losing all of it, paid the $175,000. 750 to 760 bales were returned to Henry.
The bookkeeper later testified he had not seen the cotton when it arrived nor seen it re-packed, but paid bills for repacking. One bill totaled $1,000.
Henry was directed to sign a receipt book before delivery, releasing the the warehouse of damages and attesting to his satisfaction. At that time he was directed to pay any additional charges before he could take possession of his property. Of the total of 758 that were returned to Henry, 179 bales appeared to have been repacked. They were much lighter in weight and "consisted of pickings and trash. 20 bales were half gone," testified Wm. H. Maxey, the bookkeeper. "The appearance of the lot was very bad; the worst I ever saw; some appeared to be rotten; can't say the number; it appeared as if the rotten packing had been gathered and formed into bales."
Source: Memphis Daily Avalanche, December 21, 1866, p.2
Henry decided to file suit against the owners of the warehouse and the military officers who took possession of the cotton. The judge in the case, J.A. Campbell consulted with Major-General Canby regarding the suit and the General told him he had general instruction from the War department to protect Curtis, Burbridge and Bradley who were acting as agents for the government. Henry appealed to General Canby, showing him all the evidence, "to give him the protection that the military had prevented the civil law from giving him, otherwise permit him to seek rederess through the United Stated district court; all of which was denied him." Canby stated, "you must look to Brubridge for your cotton."
Henry filed suit against Curtis, Burbridge and Bradley, and the United States government for intervening on their behalf. "The Government was not exonerated from liability it incurred by furnishing its military power to deprive a citizen of his property."
It was "also shown by General Canby's order, dated May 14, 1866, that the President of the United States had recognized the suit, giving civil courts unlimited jurisdiction, over six months previous to the petition to remove cause."
"Nathaniel Burbank, First Lieut., Acting Assistant Adjutant-General.
It appears clearly from these orders, not only that the President of the United 8tates and the general in command of the military forces of the United States of this Department had actual knowledge of the pendency of said suit, but that they likewise fully recognized and submitted to the jurisdiction of the court, both as to parties and the subject-matter.
The learned judge, before whom the case was tried, in making up his decision awarding damages, says:
'The facts of the surrender are that 555 bales of the same cotton was returned, but spoiled of a portion of their contents. Of the remainder, 200 other bales and parts of bales of cotton of an inferior quality and of less weight were redelivered. These bales were not accounted for in any manner.
The defendants justify their course by affirming that Burbridge was the supervising agent of the Treasury of the United States for Louisiana, under the acts of Congress of the 3d of March, 1863, and 2d of July, 1864, relative to captured and abandoned cotton and other property that Curtis was his assistant and Jerome Bradley & Co. were warehousemen in his employment; that Curtis received information in 1865 that the plaintiff had in his possession 35 or 40 bales of Confederate cotton, and owed the Confederate States 15 bales under their law imposing taxes; that to ascertain and collect this claim the 758 bales of the plaintiff (your petitioner) were seized and sent to New Orleans, by order of Burbridge, "for adjudication," and that they were detained for this inquiry till the surrender in March.
The courts, Federal and State were open. Civil order was restored, except when violated by such agencies as this.
The plaintiff sued out a writ of sequestration at Shreveport to secure his property. The sheriff executed this writ, but by the influence of Curtis a provost-guard dispossessed him, and the property was sent to New Orleans under the order of Burbridge.
There was co-operation, concert, countenance, by all to the acts of each, from the seizure at Shreveport to the surrender at New Orleans. In order to constitute a joint conversion it is not necessary that all the acts should be contemporaneous, provided the acts tend to the same results, nor that the parties should have the actual manucaption of the property at the same time; but the trespass by all is complete when there is intermeddling with, or dominion over the property of another, subversive of his rights, and all act in concert or with a common purpose.
The learned judge continues:
The only remaining question is one concerning damages. In March, 1866, the delivery order was given for 758 bales of cotton that had been seized and stored with Bradley & Co., subject to the payment of charges amounting to the large sum of $15,700. Five hundred and fifty-five bales were delivered of the same cotton, but with marks of having been spoiled of more or less of their contents. The average weights of these were 444 pounds. At this time other cottons were given for the remainder, but marked with the same mark as the other. Of these 159 bales average in weight 393 pounds, of an inferior quality. Another lot weighed 350 pounds, and this lot was so unmerchantable as to be sold in bulk at $40 per bale. Those bales were not accounted for in any manner or form. A large expense was incurred in putting this cotton in good order for sale.
Ware was allowed no access to his cotton after its seizure, and it was not weighed until after its delivery to him in March. Under such circumstances it does not appear how he could have given better evidence than he has of the weight or quality of the cotton.
I shall assume that it weighed 500 pounds on an average, and was of the quality of low middling, and shall allow him the price such cotton brought in New Orleans in January, 1866, whtu it came here. It was worth more on the 2d day of December, when it was seized. The quantity of cotton above mentioned, and at the prices above mentioned, must be accounted for. The defendants will be allowed as a deduction the money obtained for the cotton sold as proven and the price of low middling in New Orleans in March for the 555 bales, according to their weight at that time. The defendants can not be allowed for any money paid for insurance. No proof of any insurance is made except in the accounts of Burbridge.
It does not appear that the policies were made for Ware, or that he could have indemnified himself from them in case of a loss.
Nor can any of the charges that are personal to Bradley & Co. be admitted; as warehousemen, their conduct was scandalous. Two hundred bales of tho cotton were replaced by other cotton marked in the name of the plaintiff.
All of the cotton was the object of spoliation. They were trespassers, and can not be allowed an advantage or profit from their own wrong.
The freight on the cotton, when it exceeds $5 per bale, will be reduced to that sum, and the charges on the cotton at Shreveport that have been paid are allowed.
Interest will be allowed on the whole sum by way of damages from judicial demand.
There are losses that the plaintiff has sustained that have not been taken into account. The journeys he has made, the expenses he has incurred, the anxiety he has suffered, the outrage he has endured from arbitrary, violent, insolent, and oppressive conduct, have not been taken into account.
Now to recapitulate.
The defendants must return the amount paid to them by plaintiff for insurances, and which the court disallows, to wit:
Full amount of the bill paid $7,703.00
They must also return the full amount of the bill paid to Jerome Bradley & Color charges, they being credited with tho proper allowance hereafter $7,982.44
They must be charged with the full price which the 758 bales of cotton (at 500 pounds, making 379,000 pounds, at 45 cents) would have brought at low middling $170,550.00. Total $186,235.44
And the said defendants must be credited as follows:
Amount of freight allowed, 750 bales, at $5…………………………..$3,790.00
Amount of charges found correct and paid at Shreveport. ……….$ 1,053.13
Amount of the sales of the cotton returned, as follows:
556 bales, 246,436 pounds, at 39 cents ………………………………..$96,109. 04
154 bales, 60,501 pounds, at 30 cents ………………………………….$18,150. 30
5 bales, 1,988 pounds, at 20 cents………………………………………..$ 397.60
21 hales, 7,351 pounds, at 15 cents………………………………………$ 1,102.65
14 bales, at $41 per bale……………………………………………………..$ 574. 00
2 bales, 1,020 pounds, at 24 cents………………………………………..$ 244. 80
Total……………………………………………………………………………….$121,241.52
Amount due by defendants $649,993.92
The evidence in this case is abundant, and the character and standing of witnesses as honorable citizens, worthy of confidence, are indorsed by official certificates of Judge Boufoy and Clerk Woodall, of Harrison County, Tex. These certificates also show standing of petitioner as opposed to secession and during the war advocating a convention of the States. Certificates to be found in documents A and B. The President's pardon and amnesty dated October 23, 1865, show that at the time of the seizure petitioner was a loyal citizen and entitled to protection as other citizens of the United States."
Source: United States Serial Set, Issue 2811, 51st Congress, 1st Session, HOUSE OF REPRESENTATIVES, No. 1523, 1891, pages 1-7
"A Dispatch from Washington, of the 16th instant says: The home committee on war claims t0-day reported favorably on the bill to pay Henry Ware of Pass Christian, Miss., his claim $64, 813 being for cotton seized by O.H. Brundridge, Robert G. Curtis, and others agents of the gov. – stated, was unlawfully seized and when returned to Ware, a part was found to be damaged, other portions removed, and as inferior grade of cotton substituted."
Source: Biloxi Herald, April 19, 1890, p.1
According to Henry's great-grandson, Don Ware, Henry was awarded the judgement, but was never financially compensated for the loss of his cotton.
Henry seems to have changed his attitude towards slavery. Speculation on my part is that his beliefs were not well received in his community and he had to leave Texas. Of course, being wealthy made the move and change of occupation much easier. Also the cotton market was not as lucrative as before and during the Civil War, and Henry would not have been able to derive the same profits.
Testimony Henry gave before a Committee, regarding the President's Message about current conditions in the South in 1885, help us gain some insight into Mr. Wares changed attitude towards his fellow black citizens. There is contradictory evidence with regards to his political party affiliation. (The text is quite long and only a portion had been included. If you wish to read the entire transcript, CLICK HERE
"HENRY Ware, being duly sworn and examined, testified.
By Mr. Marshall:
Question. Where do you live ?—Answer. I live in Iberville Parish. I lived there since 1868: since that time I have principally been engaged in planting, in some little stockraising, and two or three other kinds of business.
Q. What party do you belong to?—A. I hesitate to say that I belong to any. I have never been a democrat, neither before, during, nor since the war. I have been in sympathy with the republican party. I was first a whig, though never an active politician. I attended to my business, and voted with the whigs. I was a Union man when the war commenced; was a conservative during the war, and after the war my sympathy was with the honest republicans; and I have identified myself with that party until very recently, when I concluded to fall back on my previous course; to have nothing to do with politics.
Q. How did you vote in the presidential election?—A. The republican ticket, with Grant for President, and Kellogg for governor—I think the entire ticket. I don't know that I made a single exception. I know I did all I could for their election and wrote two or three an articles in their favor.
Q. State the condition of things in your parish.—A. As far as I know, all are getting along quietly.
Q. What race preponderates?—A. The black population is much the largest. I don't recollect the number of voters, but I think they number at least two or three to one of the white population, and I think the republicans have three or four to one.
Q. What is the character of the officials that have had charge of your public affairs'?— A. For the last several years our officials have generally been colored men, or of a very ignorant class of white men; or when they were not ignorant, they were foreigners, men brought there to till appointments under Governor Warmoth.
Q. How has it been under Kellogg?—A. Well, sir, when Kellogg was elected the officials were republicans with few exceptions, and with few exceptions they are still republicans, but as a general thing they are of that class of men I allude to. I had pretty strong hopes of our being able to change things in some way. Most all classes then I that had any intelligence, and a great many of the colored people, admitted that there had been abuses, and that there was a necessity for a change so as to have better men in office, and I had hopes that we would be able to change things after Kellogg was elected. I cannot say that we have had any change. I will state, however, as I have been asked on that subject, that there have been some changes made that we consider have been of a great injury to the republican party. …"
Henry Ware found the right climate for his philosophies. On page 7 in the book "Louisiana Affairs: Report of the Select Committee on That Portion of the President's Message Relating to the Condition of the South" it is stated by "One Maxey, of Homer Claiborne Parish, was a witness to prove intimidation and social ostracism; and he complained that he had been so much persecuted on account of his political opinions that from prosperity he had been reduced to bankruptcy. These statements were shown to be without foundation by Hon. John Young and Mr. Ware, a republican gentleman of wealth who had been a partner of Maxy. His social ostracism was a myth, and his bankruptcy resulted entirely from other caused, principally his mismanagement in business."
May 9, 1873 Times-Picayune
"The $5000 Capital Prize
IN THE LOUISIANA STATE FAIR LOTTERY.
The $5000 capital prize (gold) about the lucky winner of which so much solicitude has been manifested, was drawn by Mr Henry Ware, of Plaquemine, Iberville parish, LA. We are informed by Mr Luther Homes, Secretary of the association, that Mr Ware is now in our city, and that the amount be will handed over to him this day." Courtesy of Marti Martin.
He moved to Pass Christian, Mississippi and settled into a prestigious retirement area populated by other wealthy planters.
The Biographical and Historical Memoirs of Mississippi, Vol. 2, Part 1, Published by Firebird Press in 1999, page 383, state:
Photo courtesy of Marti Martin
Henry's wife Martha, died May 22, 1879 and is buried in Live Oak Cemetery, Pass Christian, Mississippi
Source: Biloxi Herald, Nov. 16, 1889, p.1
"Rev. Henry Ware, Pass Christian, is an independent prohibition candidate for the State Senate."
Source: Clarion Ledger, Oct. 24, 1889, p.4.
Full article of Rev. Ware's speech can be read in the Biloxi Herald, Nov. 30, 1889, p.1., regarding his stance on the Democratic Party and Whiskey.
"Henry Ware is one of the clearest thinkers in the South on prohibition questions. He is impervious to questions pf expediency; he believes God leads in this cause, and that those who have enlisted under the god of the battle without questioning or attempts to change the plans of battle to suit the weak-kneed of non-combatants. He has furnished more money for prohibition, than any man, perhaps more than and other hundred men, in the state. He believes in God and the good woman, and acts as if he did."
Henry was the speaker before many Woman's Christian Temperance Union conventions. We know from the letter he wrote to Mrs. Hayes, the President's wife, he allied with her in his belief of temperance and prohibition.
Daily Herald, 1890-04-19
"A dispatch from Washington of the 26th instant says: The house committee on war claims today reported favorably on the bill to pay Henry Ware of Pass Christian, Miss., his claim of $64,813 being for cotton seized by O.H. Burbridge, Robert G. Curtis and other agents of the government, stated, was unlawfully seized, and when returned to Ware, a part was found to be damaged, other portions removed, and an inferior grade of cotton substituted." Courtesy of Marti Ware
"TRANS-MISSISSIPPI AND INTERNATIONAL EXPOSITION.
The Trans-Mississippi and International exposition, to be held at Omaha June 1 to Nov. 1, 1898, is intended to exhibit particularly the products, resources, industries and civilization of the states and territories west of the Mississippi river, embracing two-thirds of the area, one-third of the population and one-half the wealth of the United States, and, incidentally, the products, resources and industries of the other states lying east of the Mississippi river and of foreign countries.
Henry Ware, Chairman of State Committee for Mississippi."
Source: The Chicago Daily News Almanac and Political Register for 1897, page 259
Partial transcription of the obituary of Henry Ware, Herald Weekly, 1898-07-16, contributed by Marti Martin:
"Death of Henry Ware
From the Coast Beacon.
On last Saturday morning, July 9, 1898, at 8:3- o'clock, Mr. Henry Ware one of our oldest citizens, passed into eternal rest. Mr. Ware was a native of Green, county, Ga., … The last twenty years he spent at Long Beach and Pass Christian.
For a number of years he was one of the leading men in the prohibition party of this State, … He was chairman of the Mississippi prohibition party for several terms, and three times a presidential elector on their national ticket.
He was a devout member of the Methodist church, …
At his death he has reached the ripe age of 85, the declining years of his long life spent among our people, enjoying the highest esteem and respect of all–even those holding the most pronounced opposite views on the prohibition question admired the sincerity of his actions and the honesty of his motives.
He leaves a wife, two daughters, five sons and a number of grandchildren, who have the sympathy of this entire community in their bereavement."
From the Times-Picayune, 1879-07-10, also contributed by Marti Martin
"Henry Ware
Pass Christian, Miss. , July 9.–Mr. Henry Ware, one of the oldest and most esteemed citizens of the Pass, died at his home here this morning at the advance age of 85. He had been an invalid for several months and his death was not unexpected. …"
He is buried in Live Oak Cemetery along with his wife Martha Ann who died May 22, 1879. The inscription on his tombstone reads:
A Man Who Loved His God and Truly
Loved Humanity, the Friend of
Every Righteous Cause the Dauntless
Foe of Wrong in Law, in Custom and In
Life. Deal Courageously and the
Lord Shall Be With the Good.
Source: Local History and Genealogy, Biloxi, Mississippi, Mandy Lawrence, Assistant Librarian.
The Henry Ware plot is the first one – right behind the church.
According to Mandy Lawrence, the Cemetery has been resurrected by local students, since hurricane Katrina, but sadly most of the mansions of the former planters were destroyed.
From the Times-Picayune, 1899-05-04, courtesy of Marti Martin.
THE ERA OF BELLE GROVE
When Henry Ware purchased Belle Grove plantation from John Andrews, the original owner from Virginia, it was already a prosperous enterprise. According to Wikipedia, "Andrews owned over 7,000 acres spread over several plantations, with Belle Grove having 3/4 of a mile of river frontage. He founded Belle Grove during the 1830's, with Dr. John Phillip Read Stone, as a partner. Andrews assumed full ownership in 1844, when the partnership was dissolved. By the 1850's, his more than 150 slaves were producing over half a million pounds of sugar each year."
When Andrews and his father father-in-law, Christopher Adams first came to New Orleans, they were viewed as interlopers and would have soon been driven from the area if not for old Adams' will to win over the natives. Andrews cash return for 1856 was $97,000 and his thoughts turned to construction of an imposing mansion to house his wife and adolescent daughters. He sought out a man named Gallier and his son, who were the designers of other river homes. Andrews desired to have Gallier construct a residence unlike any other along the great Mississippi; one that would command power and strength.
Source: "Plantation Parade: The Ambitions of Two Virginians," by Harnett T. Kane, William Morrow and Co., NY, 1947, pages 238-248.
It has been brought to my attention there is another version of the story of Belle Grove, called "Ghosts Along the Mississippi," written by Clarence John Laughlin; first published a few years after Kane's book. He writes the plantation house was "Built in 1857 by architect Henry Howard (1818-1884),…" Several other libraries and historical societies claim this information as correct. I am offering both to the reader.
"… Slowly the framework materialized for an imposing central structure and two wings, certainly the heaviest that that anyone here had beheld. Many shrugged. That house wasn't going to be finished. There weren't enough bricks or wood anywhere for that!. Steamboats dumped crates of carved work and iron, so large that oxen had to be brought to the river to haul them. Towards the end Andrews asked his daughter to stay away from the site until all was completed. …
It was grandeur in pink, an off-shade that was almost a purple. Suggesting the strength of a heavy fortification, it raised itself two stories in the sir, with a cavernous attic, the whole heavy mass above a twelve-foot basement. … The great bulk of the front facade had four florid Corinthian columns, dwarfing any others in this region. The richly carved capitals alone stood six feet tall, of solid blocks of cypress. Behind each pillar rested a pilaster with similarly lavishtopping, and the columns supported a pediment of the enormous width and height that the portions of the house demanded.
Along the deep portico a narrow inner gallery was upheld by powerful scrolled brackets with cast-iron work for ornamentation. (Such inner galleries were among the many non-Louisiana touches. The climate called for greater ventilation than they usually provided.) From the porch, a fight of marble steps sloped downward; heavy blocks of covered brick on each side. At the right, a large extension of the house ended in a second portico. Except of the pediment and the stairway, this extension was a duplicate of the main part, with ponderous pillars, inner gallery and the rest. At the opposite exposure, not far from the central facade, jutted a rounded wing like half a medieval tower.
Beyond the ornate doorway spread the vast middle hall, marked by elaborate columns and pilasters, lesser versions of the exterior ones, with arches and double arches, more friezes and scrolls and brackets. At the back it widened toward a winding stairway, one of the most celebrated parts of the celebrated whole. Following the curve of the stairs, the outside was was rounded; at the second-floor level a stained glass window suffused the passages with rectangles of colored light. Everywhere opened side passages, bedrooms, dressing-rooms, and closets; a rear wing held the housekeeper's and servant's quarters.
The tower-like section near the main portion turned out to be and extension of the drawing-room. Draperies were in place, so that the oval chamber thus created was partly private. As time went by it was known as the "flirtation room," a point fraught with dangers to the unattached male. The room, too, held what became a storied "courting sofa." …
A final check of rooms gave a total of seventy-five, …" The doorknobs and key guards were of silver. "Before the residence stood an imposing line of oaks and pecans. The landscape gardener was improving it and laying out twenty-eight acres of shrubs and flowers. The land had formerly belonged to old Mr. Bell, and was called Bell Grove… the title was altered to read Belle Grove. …
Yet within a decade of its construction, by 1867, John Andrews had to give up Belle Grove. Hadn't they said so? demanded the disapproving. Nobody could keep it up for long-that, that pink elephant! From New Orleans appeared a commission merchant, Henry Ware, to put down $50,000 in cash. The retiring John Andrews took practically all his furniture to New Orleans and deposited it in a warehouse. Shortly afterward, the storage place burned down. …
Source: "Plantation Parade," by Harnett T. Kane
Click on above photos to enlarge. Photos from the Historical American Survey Library of Congress website, http://memory.loc.gov/ammem/collections/habs_haer/
Author H. T. Kane goes on to say the plantation house was empty for several years before Henry's youngest son, James A. Ware, occupied the residence. We know from Henry's previous testimony before members of the Presidential Committee, he had resided in Iberville Parish since 1868. I do not know whether he actually lived in the mansion.
The following is a biography of John M. Ware, son of Henry Ware and brother to James Andrew Ware and one time co-owner of Belle Grove.
JOHN M. WARE, SHUTESTON.--Mr. Ware is a native of Texas, 
born August 7, 1857.  His parents, Henry V. and Martha A.
(Everett) Ware, are natives of Georgia, where they were
reared and married.  The family is of English extraction
on both sides.  Our subject is the youngest of a family
of nine children.  His father removed from Texas to 
New Orleans in 1866, having been one of the pioneer settlers
of Texas.  Here he engaged in a brokerage and commission
business.  After a few years he abandoned this and devoted
himself to the culture of sugar cane in Iberville parish,
Louisiana.  He owned what is known as the "Belle Grove"
plantation, which contained about twenty-one hundred acres
of land.  He was engaged in sugar culture until 1878, when
he sold the plantation to his two sons, John M. and James A.
Ware.  The latter now owns and operates the plantation. 
John M. Ware sold his interest in the plantation in 1879.
Their father was married twice, his first wife being the
mother of our subject.  She died at Long Beach; Mississippi,
in 1878.  The father now resides at Pass Christian.

The subject of our sketch received good educational 
advantages, having attended the Homer College, Louisiana,
and the University of East Tennessee, Knoxville.  He began
life for himself, at the age of twenty-one years, as a planter.
He removed to St. Landry parish, twelve miles southwest of
Opelousas, in 1882, where he bought what is known as the 
"Dixon Grove" plantation, which contains nearly one thousand
acres of very fertile land.  Mr. Ware has given considerable
attention to stock raising, and has on his plantation about
one hundred and thirty head of graded cattle, besides horses,
mules, etc.  The principal products of his plantation are 
cotton and rice.

Mr. Ware commenced the artesian well business in 1887. 
He purchased a steam outfit, and did his first work on
"Evergreene" plantation, three miles below the town of
Plaquemine, the first well sunk in Louisiana above New Orleans.
He has since done work on the Mississippi River, on the 
Teche, on Bayou Lafourche and Bayou Cypremort and in St. Landry
parish.  He organized the John M. Ware Well Company, 1889,
and they now take contracts in different sections of the country.
Mr. Ware is a Democrat in politics."
Source:  Southwest Louisiana Biographical and Historical,
Biographical Section, pp. 88-89. Edited by William Henry
Perrin. Published in 1891, by The Gulf Publishing Company.
Photo property of Henrietta Ware McArdle
Ware Family Engravings/Signatures
The following biography from " Louisiana: – Comprising sketches of counties, towns, events, institutions, and persons, arranged in cyclopedic form," by Alcee Fortier, published 1909 contains a detailed study of James Andrew Ware sent to me by John Stone Ware's, daughter
"James Andrew Ware, late a resident of Iberville parish, one of the wealthiest sugar planters in the state, a prominent Confederate veteran and a member of the Louisiana state legislature, was a native of the Lone Star state, having been born on a plantation nine miles southeast of Marshall, Harrison county, Tex., Feb. 22, 1847. He was a son of Henry and Martha Ann (Everette) Ware, both natives of Georgia, the former of Greene county, and the latter of Milledgeville, the county seat of Baldwin county, and at one time the capital of the state. Two of Mr. Ware's uncles served in the Continental army during the Revolutionary war, and one of the uncles attained the rank of brigadier-general. At the age of seventeen years James A. Ware left school, and with some of his classmates enlisted as a private in Capt. David Terry's company of Texas rangers, which was attached to the cavalry arm of the Confederate service under Maj.-Gen. John A. Wharton. Young Ware was made a special courier to Gen. Wharton, with whom he served to the close of the war, most of the time in the Trans-Mississippi department. In 1866 Mr. Ware went to New Orleans, where for two years he attended school and law lectures. He soon became interested in business enterprises, however, and gave up the law for a commercial career. In 1868 he embarked in the cotton and sugar commission business. While thus engaged he was one of the organizers of the cotton and sugar exchanges of Crescent City, and from 1871 to the time of his death he was a member of the Pickwick club of New Orleans.
Attracted by the free, outdoor life of the plantation, he went to Iberville parish, and in 1879 purchased from his father the Belle Grove plantation, near the little city of White Castle, and here he made his home for the remainder of his life. The plantation comprises over 7,000 acres, a large part of which is under cultivation, and the plantation home is one of the finest and best appointed in the South. In time Mr. Ware purchased the Celeste plantation near White Castle, and thus he became the owner of two of the largest most valuable plantations i the entire Louisiana sugar belt."
Plantations of Iberville Parish
"During the dark days of reconstruction Mr. Ware, although a young man, was a fearless and intelligent advocate of home rule and white supremacy. This brought him into prominence, and from that time to the day of his death he was a potent factor in the councils of the Democratic party. His early study of the law had developed in him the judicial temperament, and as the ardor of youth was toned down by the wisdom of age and experience his power and influence increased in proportion, until he became a leading figure in the affairs of state. He was for several terms a member of the police jury of Iberville parish, a delegate to nearly all the Democratic state and district conventions after he became a resident of that parish, and was a delegate to the Democratic national convention at Chicago in 1844. In 1892 he was elected to the legislature from Iberville parish and served continuously in that body for twelve years. During his legislative career he was chairman of the finance and house appropriations committees, positions difficult to fill., but Mr. Ware discharged his duties in a manner that won for him the imperishable regard of the people of the whole state. He was also a member of the ways and means committee, one of the most important committees in the general assembly. In 1898 he was elected a delegate at large to the state constitutional convention, and in that body of distinguished citizens he added to his honors and reputation as chairman of the finance committee and a member of the committee on taxation. He served on the staffs of Gov. Murphy, J. Foster and Gov,. William W. Heard, and frequent overtures were made to him for further political honors, but these were always declined because his extensive personal interests demanded his attention.
Mr. Ware married Mary Eliza Stone, daughter of Dr. John P. R. Stone, and eminent physician and large sugar planter of Iberville parish, whose ancestry included some of the most historic families of the nation. Dr. Stone's grandfather, Col. John Stone, was a prominent figure during the colonial days and was a near relative of William Stone, who was a governor of the Maryland colony about the middle of the 17th century. The mother mother of Dr. Stone was a Miss Read, a member of the celebrated English family, among whom may be mentioned George Read, who came to Virginia i 1639, and was the great-grandfather of Ge. George Washington. Another George Read was a signer of the Declaration of Independence from Delaware. Mrs. Ware's mother was a Miss Penelope Lynch Adams, of noble ancestry, and a descendant of a family noted for its soldiers and statesmen. …Mrs. Ware has inherited from her illustrious progenitors all those marked traits if character that come only through generations of good breeding. As hostess of the Belle Grove mansion her charming personality has made the hospitality of the Wares home proverbial. Mr. Ware during his life found his greatest delight in entertaining his friends, and frequent house parties, of both young and old, were guests at Belle Grove. Mrs. Ware is also known in New Orleans society, having spent a good part of each winter season in that city, and her many friends there have always been assured of a generous and cordial reception at her apartments in the St. Charles hotel during her sojourn there. …
For about two years prior to his death, Mr. Ware has been afflicted with an intestinal trouble and had visited various watering places and health resorts in the effort to regain his strength, but to no avail. A short time before his death he went to New Orleans to undergo an operation for a tumor. Returning to Belle Grove, he was confined to his room until Sept5, 1908, when he laid down the burden of life, leaving a widow and only child. …Mr. Ware was also survived by four brothers and two sisters, viz: R. J. Ware, who for several years resided at Belle Grove as the active manager of the plantation store; W. H. Ware, who lived near Marshall, Tex., John M. Ware of St Landy parish, La.; Richard M. Ware of New Orleans; Mrs. F. W. Blocker of Marshall Tex., and Mrs. L. W. Mitchell of Dallas, Tex."
James also had also been interested in family heritage and wrote to Mrs. Hays.
(Note: The original letter is in the possession of Judy C. Ware.)
Ware Family Engravings/Signatures
Courtesy Alcee Fortier
"Mary Eliza (Stone) Ware brought to the pink palace not only her beauty, but also the taste and inheritance of an heiress. Traveling in Europe and America, she sent boatloads of material back to Louisiana: paintings, tapestries, escritoires, foot stands, armoires, wall-pieces-an interior splendid to fit the florid walls. And Belle Grove had a hostess with an air equal its potentialities. She is pictured as a social woman, whose joy was the soiree, the assembling of eighty-five people at a table, the planning of a week-end party for sixty couples, with a tournament a la Walter Scott. The river folk invariably recall her as attired in evening clothes: black velvets, decollete, with trains, and ropes of jewels and a diamond Lorgnette. With her dashing looks went a head of fiery red hair, which never faded. She kept her figure, her air, and her scarlet tresses.
'When she entered a room, the rest of the women suddenly looked plain.' 'She reminded you of a Duchess, or what a Duchess is supposed to look like.' When friends tried to talk of plantation business, she lifter her hand; such things were fatiguing. Did they mind? …And she rustled away, followed, as was her custom at some of he fetes, by two grinning Negro boys in Oriental costume, turbans and all. Several of the river people tell of an incident. Mrs. Ware dropped a diamond earring at the dinner table; two men leaned over to hunt for it. 'Don't bother, please,' she smiled. 'The servants will probably sweep it up in the morning.' "
Source: Excerpt from "Plantation Parade" by Harnett T. Kane.
Pictures provided by daughter of John Stone Ware
James Andrew Ware seemed to have had the golden touch. He succeeded in his business ventures, he had a beautiful Southern bell for his wife, an heir, an exciting hobby, and later political office. His generation was on top of the world and "making it rich."
The sugar industry had a trade newspaper, "The Louisiana Planter and Sugar Manufacturer." Like most wealthy people of his day, his every move was newsworthy. The following articles are from that newspaper printed by the Louisiana Sugar Planters' Association.
Vol. 1, page 6, 1888
"The Leeds Foundry, while attending to am immense amount of other work, is doing a considerable amount in the line of sugar machinery this summer. The firm is building a large supplemental mill for Mr. James A. Ware's "Belle Grove" plantation, the rollers being 40 inches in diameter and 5 feet 3 inches long, with proportionately heavy gearing."
Vols. 2-3, page 35, 1889
"Mr. James A. Ware and Five-Flued Boilers.
ANOTHER EVIDENCE OF ENTERPRISE
A few days ago we saw at the landing of the Merchants' and Planters' Line three magnificent, boilers consigned to James A. Ware, Belle Grove plantation; three boilers, 56 inches in diameter by 28 feet long which five blues in each, from the Joseph Mitchell Boiler Yard in Louisville. They were the outcome of a practical test made last year by Mr. Ware of three boilers, 52 inches in diameter with five flues, which were built by the same establishment for his Evergreen plantation. After taking off the crop of 1888 Mr. Ware was so thoroughly satisfied with the superior qualities that these boilers possessed, they being rapid steam generators and economical with fuel, that he determined to put the same type of boiler on his Belle Grove plantation. On Mr. Walton's late visit to the city Mr. Ware expresses his satisfaction with the boilers put in last year at Evergreen, and said he desired to have similar ones put in at Belle Grove.
Mr. Walton told him he had something better to offer now, and on showing him the design of these boilers, they bring 4 inches larger in diameter, and flues, so arranged as to cut up the body of water and distribute the heating surface to make them rapid and economical generators of steam, Mr. Ware saw the point at once and immediately placed order with Mr. Walton for the boilers that went up the rover last week. They were certainly beauties, and were built of the best quality Shoenberger celebrated steel. The boilers will rater above 90 horse power each, and are provided with all the late improvements, such as hangers, I beams, etc.; we think Mr. Ware's experience with this high type of boiler will be such as to revolutionize the ides of many other planters in the river parishes as to the most economical boiler for their use. …"
Vol. 4 page 114, 1889
"The Iberville crop of 1889 is given in detail as follows:
James A. Ware, Belle Grove…………..Hhds., 1,000"
Vol. 22, page 114, 1889
"Hon. Jas. A. Ware thinks many in his section will do well to get seed out of their stubble, and this opinion is shared by others."
James began his political career as a member of the Police Jury for Iberville Parish in 1883 and continued through 1888. He served as Parish Representative in the General Assembly from1881 to 1889 and was nominated for Lieutenant Governor in 1889.
Vol.23, page 279, 1899
"A general white primary election irrespective of party will be held in this parish on the 7th proximo, for the purpose of nominating, candidates for district, parish and ward officers. Those two good planters, Hon. James A. Ware and Hon. William W. Ventress, who have so ably represented the parish in the lower house of the General Assembly, the former for eight and the latter for four years, will have no opposition. Would that all parishes were as well represented."
Vol. 23, page 309, 1899
"Everybody in Iberville has been more interested in politics lately than in planting or sugar rolling and one of the hardest fought contests on record was the primary election on record was the white primary of last Tuesday in which 1,100 voters participated. The nominees are, …for representatives, Hons. J.A. Ware and W. W. Ventress; all present incumbents…"
Vol. 23, page 389, 1899
"Iberville has a candidate for the position of lieutenant governor in the person of Hon. James A. Ware, owner of the fine Belle Grove and Celeste plantations, one of the most skillful planters in the state, and a man of solid judgment and sound understanding."
By 1900, the Honorable Mr. James A. Ware, like his father Henry, had broadened his interests and the scope of his plantation. The following is from the "Standard History of New Orleans, " by Henry Rightor, page 693
"IBERVILLE PARISH
Ware, Hon. James A. Belle Grove. White Castle, 3,100. Modern, up-todate. Electric lighting and narrow-gauge railroad. Daily capacity, 600 tons. Average annual output, 2,500,000 pounds. Creole."
And this from "The Louisiana Planter and Sugar Manufacturer," Vol. 27, page 307, 1901:
"Messrs. Leonce M. Sonlat and James A. Ware, progressive planters who are taking a deep interest in the oil venture back of White Castle were at Plaquemine Monday in the interest of their company. A report lately made by a chemist on the quality of the gas taken from the Barbary well shows it to be a fine mineral gas, almost pure. Preparations are making for sinking a well 1,500 feet if necessary, beginning with a ten inch pipe which will be gradually reduced to one of four inches. Even if oil should not be found good streams of water may be struck and the cost of the experiment not be lost after all. Mr. Sonlat says the crops have not had sufficient rain."
HON. J. A. WARE, Iberville.
"At the Belle Grove of the Estate of James A. Ware, the wheels were turning nicely, turning out a splendid grade of fancy yellow sugar. The two Whitney mills wore doing all that was expected of them and more too; the mills being operated by a Lane & Bodley, Corliss engine. The mill house is under the management of Messrs. Louis Achee as chief and Jos. LeBlanc as assistant: the field end being in charge of Mr. L. P. Begue who is putting in something like his twentieth year there. Mr. E. C. McCollom is assisting. Mr. James Laneaux, from the sugar school at Smoke Bend, is putting in his third year at the glass-lined pan, with Lucien Dugas also of the Smoke Bend city, as assistant. Mr. Achee said that Belle Grove was doing well, that the cane was sweet and the returns quite satisfactory. They were grinding the last of their stubble."
Source: The Louisiana Planter and Sugar Manufacturer, Vol. 45, by Louisiana Sugar Planters Association, Louisiana Sugar Chemists' Association and American Cane Growers Association, 1910, page 348
Racing "Trotters," was James Ware's passion outside of his plantation duties. "There was a private race track and James Ware maintained a racing stable," according to Clement Landry Jr., and Kane in their book, "Plantation Life on the Mississippi.
Moses, Bett Lady, Delpha Sprague, Jean Gordon, Marie Claire, Ruth Nelson, Salassie, Tempaletta and Rose Mason were listed in Vol. 14 of "Wallace's American Trotting Register," of 1898.
"On race days, usually Saturday afternoon, people would flock to our Retreat Plantation levee, which elevation formed an excellent grandstand. It would of course be specially crowded nearest the finish line. One was Mr. James A. Ware, a handsome wealthy planter from the great Belle Grove plantation near the town of White Castle about 20 miles below us.
…Big crowds were attracted to the improvised Clement "speedway," or mile-lone trotting track of nearby Retreat Plantation, whenever Ware entered into competition races with other from Iberville Parish. At the death of James A. Ware, his son, John Stone Ware, continued the racing tradition, adding another private track to the one his father had already built."
Source: "Plantation Life on the Mississippi," by William Edward Clement, Stewart Omer Landry, Jr. and Harnett T. Kane, pages 21 and 197, 2000.
Ware Family Engravings/Signatures
Alcee Fortier
"The union of the Stones and Wares produced an heir apparent, Stone Ware," born in New Orleans March 26, 1870. "…As the only son and only grandson, he concedes that he was 'a spoiled brat, hardly fit to live with. I had, I guess, anything a kid could ask, except maybe companionship. I eventually learned to get along without that,' " Stone Ware related to writer Harnett T. Kane.
"As a boy Stone Ware climber the turret of the oval room and used a telescope to survey the countryside like a ship's captain, he accompanied his mother on visits of state in a carriage that was all shiny black and immovable glass. He perspired in the heat and choked on the smell of camphor ball, but the visits had to be made; his mother was much attached to him and like to show him about the coast. He could watch the great parties if he did it quietly. …
Stone Ware well taught by private tutors, military school in Virginia, several years at Tulane, and the Audubon Technical School to find out about scientific sugar"' He graduated in 1893 with academic and medical degrees. " Back home, he was allowed to slip into the sugar manufacture and gradually take over the management ."
Source: Excerpt from "Plantation Parade," by Harnett T, Kane.
"… John Stone Ware, "known invariably as Stone Ware." Many years later, Stone Ware recalled his life at Belle Grove for the Louisiana writer Harnett Kane, ' As a youth he enjoyed roaring around the property in his sports car, attired in jacket, goggles and gloves like a New South version of Mr. Toad. He had everything, he recalled, but was terribly lonely, left to wander the immense mansion friendless."
Source: Southern Bound: Matrana shows pride of ruin plantations, by Lawrence F. Specker, Press Register, Nov. 1, 2009, Updated Jan., 14, 2010
Stone was groomed to carry on the Ware Dynasty begun by his grandfather, Henry, and became the mirror image of his father, James; in business and recreational interests.
"On one occasion Stone went to a Cotillion Ball in the North, all the men wore white gloves, so when Stone returned to the South and attended the same event he wore white gloves. The ladies were very happy to dance with a young man who did not have sweaty palms."
Information provided by Stone's youngest son, Don Ware.
"His father put up a race track; Stone added a second one. The Wares seldom did anything in a small way. Stone organized the Louisiana Trotting Horse Breeders' Association and traveled with his entries, taking prizes as he went. He was the first man thereabouts with an automobile, … Eventually when others had a single car, he owned three-a Peerless, a Chandler, and a red Buick.
Through the countryside and through the years moved Stone Ware, surrounded by dozens of people, yet always the Lonesome Luke."
Source: Excerpt from "Plantation Parade," by Harnett T. Kane.
Photograph from Belle Grove Discussion Site on Yahoo
Source: Bayourebel, Belle Grove website, bellegrove@yahoogroups.com
"Wagons from other growers would come to the mill a sample was tested, using this instrument to pay for the correct sugar content." Don Ware.
Ware Family Engravings/Signatures
Alcee Fortier
"Iberville Parish
"There was a beautiful wedding at Plaquemine this week and the contracting parties were Mr. J. Stone Ware, so of Hon. and Mrs. James A. Ware, of Belle Grove plantation, and a grandson of the late Dr. John P.R. Stone and Miss Carmelite Gourrier, daughter of the late Thomas Gourrier, at one time a prominent planter of Iberville. Mr. ware has for several years been assisting his father in the management of Belle Grove and Celeste plantations. Mr. Ware and his bonnie bride have gone on tour of the Northern cities."
Source: "The Louisiana Planter and Sugar Manufacturer," Vol. 27, by Louisiana Sugar Planter's Association, 1901, page 163
Source: Times-Picayune, September 11, 1901, p.4
Stone seemed to be inclined toward in public service, also.
"Iberville
The grand jury which was empaneled last March and of which Mr. J. Stone Ware is foreman has been ordered by Judge Edward B. Talbot to reassemble on Monday, the 15th, for the purpose of investigating whatever cases may come up for the September term of the District Court."
Source: "The Louisiana Planter and Sugar Manufacturer," Vol. 29, by Louisiana Sugar Planters' Association, 1902, page 163
In 1903 both Henry and James Stone Ware sought relief from War Taxes and appealed to the United States as noted in the Congressional Record, Vol. 36, page 257
"War-Revenue Taxes
Ware, Henry, relief of estate (see bill H. R. 15888).
Ware, James S., relief of estate (see bill S. 6794)."
"Iberville
Mr. J. Stone Ware, of White Castle, was at Plaquemine this week, to qualify as a member of the school board, to which he was recently appointed by Governor Heard. Mr. Ware will make an excellent member."
Source: "The Louisiana Planter and Sugar Manufacturer," Vol. 32, by Louisiana Sugar Planters' Association, 1904, page 367
All hands were busy at the Belle Grove of Hon Jas. A. Ware and the two large Whitney mills kept constantly busy, grinding 350 tons every day. Your writer was very cordially received by Mr. J. Stone Ware, who is in general control of the house. Mr. Amelius Williams a young Ibervillian of much experience, is again at his post as the director of works in the house, with Mr. Jos. LeBlanc of Bayou Lafourche as under-study. The pan room is being looked after by Mr. Lucien Chauvin, assisted by Mr. Antsole Hieder, both of St. James. This is the first year for these two gentlemen at Belle Grove; they are making a beautiful grade of both firsts and seconds in fancy yellow. The field is in charge of Mr. Louis Begue and Mr. Jos. Tucker. Mr. Ware has been using five of the Mire loaders for the past three years and finds them working most satisfactorily.
Source: The Louisiana Planter and Sugar manufacturer, Vol. 37, by Louisiana Sugar Planters, Association, 1906, page 358.
A Mire Loader
Stone was also a Colonel in the Militia. "A visit of the President of the United States was planned to Louisiana and when Stone was informed of the event, he found out that the President would be escorted by Generals, he (Stone) was promoted to the rank of General for the day," according to Don Ware, his youngest son.
DECLINE OF AN ERA
"This week Iberville records the death of one of her most prominent and successful planters in the person of Hon. James A. Ware, who died on Saturday last at his home on the Belle Grove plantation and was buried on Monday in New Orleans. He had been in bad health for some time, though his relatives expected that his sturdy constitution would pull him through the ordeal. He leaves a widow and an only son, J. Stone Ware, who were with him at the time of his death; also two sisters, Mrs. F. W. Bocker, of Marshall, Texas, and Mrs. L. W. Mitchell, of Dallas; also four brothers, W. H. Ware of Marshall, John M. Ware of St. Landry, R. M. Ware, of New Orleans, and R. J. Ware, who attended to the store and financial end of the plantation. Mr. Ware was the owner of the Belle Grove and Celeste plantations and for thirty years has devoted himself almost exclusively to the cultivation of cane and the manufacture of sugar. He was born in Harrison county, Texas, in 1847, and at the youthful age of seventeen entered the ranks of the men in gray and served gallantly under the command of Gen. T. D. Wharton to the end of the Civil War. The war being over he started life in New Orleans, beginning the study of law, finally going into the commission business. At this time he married Miss Mary E. Stone, a daughter of the late Dr. J. P. R. Stone, formerly owner of the Evergreen plantation in this parish. In 1879, with his father, Henry Ware, he purchased the Belle Grove plantation, afterwards adding the Celeste, making one of the largest and finest cultivated tracts in the sugar belt.' Mr. Ware was very active in politics, being for years a member of the State Legislature. He has always been a staunch Democrat and from 1879 to date has been a member of almost every state and parish convention"
Source: "The Louisiana Planter and Sugar Manufacturer," Vol. 41, by Louisiana Planter's Association, 1908.
" Col. Ware, Veteran Dead
---
Prominent in Louisiana Democracy
for Years and Among Wealthiest
of State's Sugar Planters
---
Special to the News.
New Orleans, La. Sept 6. — Col. James A. Ware, Confederate veteran, member of the State Legislature for years and prominent in Democratic circles for forty years and one of the most prominent and wealthiest sugar planters of the State, died at Belle Grove plantation, Iberville Parish, near White Castle at 4:55 o'clock this afternoon after an extended illness.
Col. Ware was 61 years of age. He was born near Marshall, Harrison County, Tex., in 1847 entering the Confederate army when only about 17 years old. He joined the command of Texas Rangers under the command of Capt. David Terry which was accepted by Ge, Wharton, and they served until close of the war.
Belle Grove plantation, Ibrville Parish, where Col. Ware spent the greater part of his life, comprises over 7,000 acres and is one of the finest estates in the Sugar Bowl district. Col. Ware leaves a widow and an only child, Stone A. Ware, also well known and popular in this city. Four brothers and two sisters survive him. R.J. Ware of Belle Grove, W.H. Ware residing near Marshall Tex., John M. Ware, a resident of St. Landry Parish, and Richard Mo. Ware of New Orleans. The two sisters are Mrs. F.W. Blocker of Marshall, Tex., and Mrs. L.W. Mitchell of Dallas, Tex."
Source: Dallas Morning News, September 6, 1908, p.1
Photo found on Find A Grave by Marti Martin showing James and Mary Eliza
are buried with her family Metairie Cemetery, New Orleans, LA
"In the death of Col. James A. Ware, the state has lost a patriotic and public spirited citizen whose passing away will be widely regretted. Col. Ware was a man of eminent worth and in both official station and in private life he illustrated the sturdy virtues which make for good citizenship and for the uplifting of the people.
He never sought or held and office of emolument, but in high positions of responsibility and trust set the standards so high that it will be difficult for those who come after him to maintain it. He loved his state and held to that splendid old-fashioned theory that his best services could not be withheld from her when she was in need of them.
Therefore, notwithstanding the urgent claims of his private affairs, when the desperate struggle against the lottery was on he came forward and lent strength of his name, his lofty character and his ability as a man of affairs to the cause of the people. As chairman of the committee on appropriations of the house be brought his fine business capacity to task before him in the work of that most important of all the committees of either house, and the budgets which came from his committee are models which succeeding committees might imitate with profit.
His services on that committee, as a member of the house, and in the councils of his party were of the greatest value to the state; because his counsels and his services were always disinterested and honest. He counted not the cost to himself when any measure of policy was being considered, but gave always the benefit of his ripe judgement and his wide experience where his opinion was sought.
Col. Ware was splendid type of Louisiana manhood and the news of his death will fall as a personal loss upon thousands who knew him but to admire and love him. He was a friend whoes friendship was worth while because it was never bestowed lightly, and when once given was always steadfast and true."
(Note: Biographies of Dr. John P.R. Stone and Henry Ware and James Andrew Ware can be found at the Rare Books Department in Merrill Jones Library at Tulane University. Information is traced back to colonial times. The books are the second and third of a series titled "Louisiana" by Alcee Fortiere, published in 1909, recorded 976.3-77411e, Black Binding," courtesy of John Stone Ware's daughter.)
"In 1908 James Ware died, the only master of Belle Grove ever to expire within its walls. Stone Ware took over, and for a time there was scant change-the parties, the calls of state, the visits to the races, all went on. Between Stone and his mother there continued a strong affinity.
Photo taken from Belle Grove Discussion Group on Yahoo
House of J. Stone and Carmelite Ware
Iberville Parish History, by Judy Riffel
He and Carmelite "stayed in a smaller house near Belle Grove. Children came quickly; (John Stone, Jr., Thomas Gourrier, Frances Xavier, Alfred Adams, Glendower Owen, Gerard Richard, James Andrew, Mildred, Eloise and Marjorie; all deceased now) an outsider would have said that Stone Ware had everything in life."
But the end was in sight for this generation of the Ware's and the decline of Belle Grove was imminent. Mother Nature attacked the cane crops on all fronts. "One year a hurricane ripped at his cane; the next, and early freeze split the stalks and turned the juice to vinegar," according to writer, Harnett Kane.
"The third Ware owner operated the big establishment until the early nineteen twenties. At that time, due probably to the mosaic disease which attacked the sugar cane crop and crop futures, Mr. Ware found it expedient to cease operating Belle Grove, …"
Source: "Plantation Life on the Mississippi," by Clement, Landry, Jr. and Kane, 2000, page 197
"A story from long ago. As my father, John Stone Ware Sr., a small boy at the time, told it to me, the Belle Grove sugar cane crop was still in the field; a sudden and unsuspected freeze surprised every one. Every one that could be located was rushed to harvest the crop before the freeze split and soured the cane. To help fight the cold, the workers suffered. His father James Ware loaded a barrel of brandy into the wagon with my father in the back of the wagon with a dipper in hand and went through the field giving brandy to every worker."
Source: Don Ware, youngest son of John Stone Ware .
"Raising sugarcane always depended on fair weather conditions. If an early freeze occurred before the crop matured, the cane was ruined for that year. This happened occasionally, but the good years provided for a successful business.
At the beginning of the 1920's, the spread of industrialization with improvements in transportation both in shipping and railroads changed the economics of the sugar cane industry at Belle Grove Plantation. The sugar cane industry expanded into other areas that has an abundant labor supply, which assured low cost production. Slave labor was available in Cuba, the West Indies and parts of South America." stated Stone's daughter.
"One time rains had swollen the Mississippi to almost overflowing and threatened the leeves. The growers on either side of the mighty river would have been relieved if one side of the leeve was to be broken, but the consequence was the fields on the broken side would be drowned and ruined. So they agreed to patrol the levees at night to make sure the leeves were not intentionally breached. Stone's turn to ride came. In the very early hour of the morning he could make out the form of a boat crossing the river. He could see the handles of the shovels. What was he to do? After all, these where his neighbors. He cautiously approached and when he could more clearly see; it was just a log, with its upturned branches, floating down the river." Anecdote provided by Don Ware, son of Stone Ware.
Lewis S. Ware, no immediate relation, had been encouraging farmers, world-wide to plant sugar beets. The beet crop was more resistant to disease, could be grown in colder regions and provided the average farmer with more income which could be derived from less lab
(Note: See the Biography of Lewis S. Ware Jr. (1851 – ) in the Archives and various other information in the Acorns.)
"There was no tariff for imports to this country at the time, so there was an invasion by foreign markets," she continued. "Sugar was imported to large manufacturing centers in the United States.
Stone Ware, told me, 'no matter how cheap we tried to sell sugar, we could not keep up with that market.'
After years of attempts at crop rotation, between cotton, sugar beets, and other crops, the plantation was no longer sustainable and it became necessary to sell. Some of the smaller plantations that did not depend on sugar survived. But many of the plantations have been claimed by the ever-changing Mississippi River."
In a lawsuit before the Supreme Court of Louisiana, February 25, 1918 entitled MILES PLATING & MFG. v. WARE et. al., John was named along with his deceased father, James, and grandfather, Henry, as complicit in the supposed sale of a piece of Belle Grove plantation property.
"It is shown that John M. Ware sold his "undivided half interest of all right, title, interest, and claim" in and to the land in dispute to James A. Ware, who sold 45 acres thereof to Mrs. Jas. S. Tuttle, "with only such warranty and guarantees as he acquired from his vendors, and no more, and without agreeing to return the purchase price," and that, after his death, his widow, and heir, in 2920, conveyed the remaining part of the tract in question with other property to the defendant corporation created by them, for a price payable in shares of its capital stock.
It is also shown that Henry Ware, before and after the execution of the instrument by Wilkinson and Thomas," (previous owners who did not have clear title to the land in question) "was in the habit of taking timber from the adjacent swamp for plantation purposes, and that the same habit prevailed among the other planters, some eight or ten in number, whose plantations extended to the swamp from different directions, and that, so far as the Wares were concerned, that habit was continued until, say 1912, when it was stopped by an order of the court, issued at the instance of the plaintiff; it being quite likely that the planters thus referred to had right of ownership which, in most instances, entitled them to take the timer, and quite as likely that, in other instances, the lines which bounded their swamp land holdings, were not defined, and that overstepping of them was common and understood."
Mrs. Tuttle was able to produce Tax receipts. The Wares could not. The defendants alleged the Wilkinson and Thomas had title as executed March 2, 1870, but the bank foreclosed on the property in 1881. Wilkinson and Thomas said the bank had no right to foreclose and resell the property, because they had already sold it to Henry Ware as of March 2, 1870, who in turn transferred it to James A. Ware and John M. Ware. (Stone Ware)
Plaintiffs Counsel argued "that the purported sale is nothing more than an agreement to sell, as set forth in the document, and title to be made as soon as the land is surveyed; and I also abject to the offer of sake of Henry Ware to James A. and John M. Ware, as said document is not an act of sale, but transfers all of the right, title, and interest of vendor to within obligation."
Judgment: "Beyond that the law contemplates that property, which is to be sold under Judicial process shall be advertised in the jurisdiction where situated, and where the sale is to be made, since, in most cases, it would be in vain to advertise property in one part of the state in order to sell it in another.
It is therefore ordered that the Judgment appealed be affirmed at the cost of the appellant."
"Sadly, he had to tell his mother, 'We can't make the crop this time.' Such a thing had seldom if ever happened at the old Belle Grove; it could not happen many more times, or they would be ruined. Stone Ware tried diversification, subdivisions, new manufacturing schemes. Nothing worked; …'It was as if a curse had been put on the place. Sugar is the biggest gamble on earth, but it wouldn't pay off for me at the end. I needed just one thing-time; and I couldn't get enough of it,' " Stone told writer, Harnett Kane when interviewed by him for a book Kane was writing about southern plantations."
(According to a Stone's daughter, "Mary Eliza Ware had gone to Belle Grove with her companion, from her suite at the St. Charles, for a short visit. She passed away while sitting in her rocking chair in the front hall.")
Carmelite Ware, Mrs. John Stone Ware, died August 27, 1924, after a long illness, according to information by Marti Martin. She was only46 years old.
"In 1924 a line of vehicles headed for Belle Grove. For once they were not going there for a party. Antique dealers appraised the sets of rosewood and mahogany, the sofa from the "flirtation room," and the hundreds of other pieces. Extra trucks, heavy floats, were called for; days were needed to clean out the treasure that Eliza Stone had collected. When Stone Ware glanced about the bare walls he saw something that everyone had overlooked-the portrait of the unknown man, the "guardian" of Belle Grove. He had preceded them there, and had outlasted them.
Even if the plantation itself had continued in operation, the great house had been marked down for ruin many years ago. He had watched the river encroach on Belle Grove. When he first went there, the Mississippi was a half-mile or more away; then it has moved in, a few hundred yards at a time."
Source: Excerpt form "Plantation Parade," by Harnett T. Kane.
"The Ware family occupied Belle Grove for 56 years, but it was never occupied after John Stone Ware sold it," according to his daughter.
She continued, " When Belle Grove became insolvent, John Stone Ware went into horse racing, as this was his second interest. Having his horses trained and shipped, he traveled to many tracks in Virginia, Ohio and other circuits. He then became a judge at the Fair grounds in New Orleans.
He was married twice; 10 children from the first marriage to Carmilete Gurrier. His second marriage was to Edna B. Kleibert , who was many years younger than Stone. They had five children.
John Stone Ware never allowed liquor of any kind in his home; beer, whiskey or wine.
His interest was in providing for his family during a very hard depression. He worked for the city of New Orleans as an assistant manager for the Traffic Department, then in the Research Department. He was often sought after as a public speaker on timely events.
When the newly constructed Iberville Apartments became available, he was encouraged to take one."
Harnett Kane interviewed Stone for his book "Plantation Parade" sometime between 1944 and 1945.
"Stone Ware lived today in a small apartment on Bienville Street in New Orleans. A stout white-haired man in a white shirt and seersucker trousers, he showed little bitterness when we met. He served lemonade with all the eclat of a man providing a julep in the older era. No, he had not seen the plantation house since that day; he did not want to. He is not regretful about his life. 'Ive acquired experience if not virtue. You know, I think I may even have done some good, by accident, here and there."
"They did not live in the apartment very long as the children from his new family were growing and needed more space," continues Stone's daughter. "The family moved to the Lakefront where he enjoyed fresh air and time with his grandchildren.
He was not despondent over the events in his life. He believed a true aristocrat never sought publicity. He felt that his home was not a gathering place and sought a quiet peaceful time."
It took Marti some time to find the obituary for J. Stone Ware.
"Times-Picayune
Louisiana
June 20, 1950
Ware
On Sunday, June 18, 1950 at 9:40 AM, John Stone Ware of New Orleans and Iberville Parish, Louisiana, husband of Edna Klebert, Born March 25, 1870. Private internment June 19, 1950." (By 1930 according the Census records, J. Stone had remarried.)
Friends of Belle Grove Plantation website
Obituary of the last remaining child born to the union of Stone and Carmelite Ware:
" JAMES ANDREW WARE James Andrew Ware, 94, a native of White Castle, died at his home Sunday, Aug. 13, 2000. He was a retired salesman, served as a U.S. Marine and was a member of the National Rifle Association. He is survived by numerous nieces and nephews. He was preceded in death by six brothers, John Stone Ware, Thomas Gourrier Ware, Francis Xavier Ware, Alfred Adams Ware, Glendower Owen Ware and Gerard Richard Ware; three sisters, Mildred Ware Anderson, Eloise Ware Lyons and Marjorie Ware McElwee. A memorial service will be held at a later date." (Child from the first marriage.)
Source: August 15, 2000 Tuesday's Obituaries, THE HAMMOND DAILY STAR, Aug. 2000; Hammond, Tangipahoa Parish, LA.
"The post-Ware era at Belle Grove saw the finely crafted home rot away in Louisiana's harsh environment. Neglect allowed a leaky roof to expand and destroy the rear wing of the mansion. Several owners purchased the home, each with the aspirations of restoration, but none had the means necessary in the lean years of the Great Depression and World War II to stop the onslaught of rapid decay. On March 17, 1952, a mysterious fire during the night destroyed what remained of the house."
Source: Wikipedia, on-line.
The era of Belle Grove, may have faded, but the Wares live on and their naming tradition continues. Sadly, though there are not many family members or friends, who can still remember the granduer of Belle Grove.