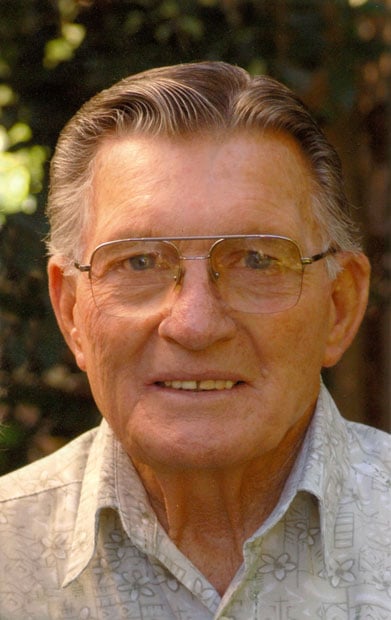 John Keith Ware, born June 13, 1922, in Spokane, Wash., passed peacefully at home in the arms of his wife, Betty, and family, Oct. 17, 2010.
John's journey touched his country, as a Marine serving in the Pacific during World War II; and his community, as an independent contractor, member of California Search and Rescue, and avid lover of people. His family knew him to be a man of great patience, love and giving, a mentor and a friend. They also appreciated his love of the outdoors and animals, his endless stories, and his wonderful sense of humor. This world is a better place because of him, and though sorely missed, his gift of love of life and laughter is amplified through those he touched: his loving friend and wife, Betty; daughters, Janet and Lori; sons, Bryant, Craig and Doug; daughters-in-law, Kim and Stacy; grandchildren, Lisa Freathy (Andrew), Breianna Curry, and Katie, Jared, Cami, Megan, Jaiden, Ellie, Ryan and Dylan Ware; and many loving friends and acquaintances. Every day is a gift. Thank you, John.
Friends, acquaintances and loved ones are welcome at a memorial service Saturday, Oct. 30, 2010, 2 p.m. at the Church of Jesus Christ of Latter-Day Saints, 2590 Trower Ave., Napa. Donations, if desired, may be directed to either the much-deserved Kaiser Hospice, or the Napa Valley Nursery School (NVNS) John Ware Memorial Scholarship Fund (P.O. Box 2213, Napa, CA 94558).
Source:  Napa Valley Register (CA) – Saturday, October 23, 2010