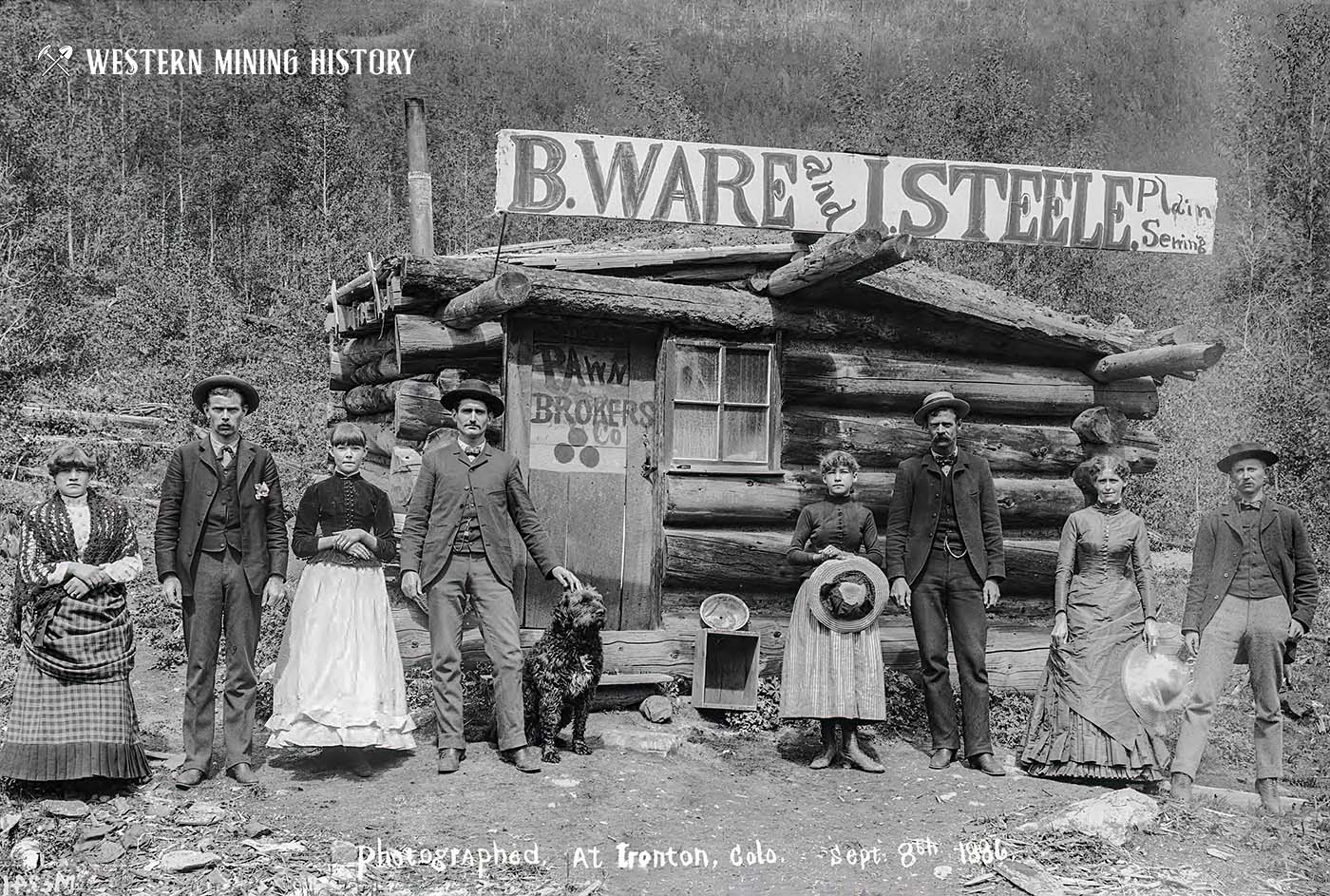 Ironton was a major transportation junction and mining camp between Red Mountain Town and Ouray.
With a peak population of over 1000, Ironton was one of two prominent camps in the Red Mountain district. Only Red Mountain Town achieved similar success, and although it has been recognized as the center of the Red Mountain district, Ironton may have been just as influential.
Ironton was established in 1883 and grew quickly, with over 100 buildings constructed that first year. The town was incorporated in the spring of 1884.
In1884 the newspaper Review moved from Red Mountain Town to Ironton, an indication that at least in the earlier days of these two towns, Ironton was considered the most promising settlement among the Red Mountain mines.
In the Fall of 1883, the Otto Mears toll road (later to be known as the Million Dollar Highway) was completed from Ouray to Ironton and the Red Mountain mines. With the first flood of stage coaches arriving early in the summer of 1884, excitement about the future of the town was building.
A June 19, 1884 edition of the Colorado Daily Chieftain declared "Ironton is at an excellent site for a town with an ample supply of water from the Red Mountain creek for a town of 50,000 people."
A railroad was completed between Silverton and Ironton in 1888. With two daily trains arriving at the town, Ironton's future seemed bright. A newspaper article from September of 1888 gave a brief description of the town.
"Ironton, with its plank sidewalks and nicely graded streets, new school house, the near completion of the Silverton and Red Mountain railroad to and within its boundaries, its central location to the mines of Red and Brown Mountain with their army of miners and development of immense quantities of as fine ores as can be found In the state, is fast coming to the front."
Ironton was hit especially hard by the silver crisis of 1893. What had been the Red Mountain district's most promising town found itself so diminished that in September of 1893 the post office was closed. The Silverton Standard reported the following about Ironton's troubles.
"The post offce at Ironton has been discontinued entirely, and people there must now get their mail at Guston, two miles away. Two years ago Ironton was one of the most promising camps in the mountains, a system of waterworks was put in, business and dwelling houses went up on every hand, a new church was erected, the mines were all running wide open and times were good."
The situation at Ironton would soon improve however, and in 1894 the post office was reopened. It would stay open until 1920 when Ironton's post office would close permanently.
The town lived into the first part of the 20th century but slowly faded as mining operations declined. The final resident of the town, Milton Larson, died in the mid-1960s.
Source: https://westernmininghistory.com/towns/colorado/ironton