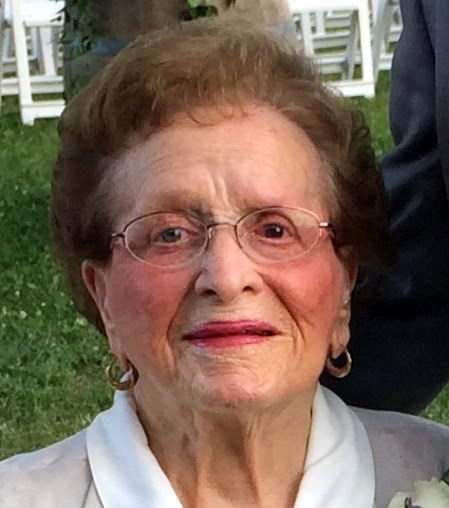 Martha "Sug" Millner Ware, aged 96, left this life on September 28, 2018. She was born in Strasburg, Virginia on December 12, 1921 to Walter Dearing Millner and Sophia Bell Coffman Millner. She was predeceased by her husband, David W. Ware and her son, David W. Ware, Jr.
She came to Williamsburg in 1944 to work at Peninsula Bank and Trust on Duke of Gloucester Street. She met and married David Ware and moved to his ancestral home in Toano-"Windsor Castle-the oldest house in James City County- circa 1700-1730"
In the 1960's, Sug and her husband built The Williamsburg Campsites along with The Williamsburg Brass Shop and the Colonial Towne Plaza shopping center on Rt. 60 in Lightfoot. She was active in this endeavor until The Brass Shop closed in 2016. She was a member of Hickory Neck Episcopal Church.
At the time of her death, Sug held the distinction of being "the closest living relative of Abraham Lincoln." Her great-great grandfather and Abe's grandfather were brothers. Her grandmother was Abigail Lincoln Coffman.
She is survived by her son, W. Walker Ware IV, of Toano, 2 daughters, Martha Ware Petro of Garden City, NY, Mary Reynolds Ware of Lanexa, son-in-law, Joe Petro, 10 grandchildren, and 17 great grandchildren.
A memorial service will be conducted at Hickory Neck Episcopal Church, 8300 Richmond Rd, Toano, on Saturday, October 6, at 11;00 am. Reception to follow.
In lieu of plants and flowers, donations in her memory to any of these organizations would be greatly appreciated:
1p36 Deletion Support and Awareness, 48 Cornfield Lane Warwick, NY 10990
Hickory Neck Historical Building Fund, 8300 Richmond Road, Toano, VA 23168
CARE NET Peninsula, 11747 Jefferson Avenue Suite 2D, Newport News, VA 23606
Source: Daily Press (Newport News, VA) – Friday, October 5, 2018