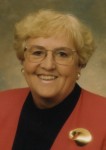 CUBA CITY, Wis. – JoAnne Ware, 79, of Urbandale, IA, formerly of Cuba City, WI, passed away Sunday, February 11, 2018, at Senior Suites in Urbandale, IA.
Services will be held at 10 am Saturday, February 17th, at St. Rose of Lima Catholic Church in Cuba City, WI, with Father David Flanagan officiating. Burial will be in the St. Rose Cemetery in Cuba City, WI. Friends may call on Saturday, February 17th, from 9:30 a.m. until time of service at the church. The Haudenshield Funeral Home & Cremation Services in Cuba City, WI, is assisting the family.
JoAnne was born March 19, 1938, in Cuba City, WI, to John and Cecilia (Keleher) Ware. She worked as a Director of Radiology for St. Mary's Hospital.
She is survived by her sister, Pat Geier, of West Des Moines, IA; brother, Larry (Doris) Ware, of Sun City, AZ; as well as many nieces and nephews. She was preceded in death by her parents; 2 brothers, John Kenneth Ware and Louis Lloyd Ware; and a sister, Jeannette Wedig.
In lieu of plants & flowers, memorial contributions may be made to St. Rose Catholic School in Cuba City, WI. Online condolences may be left for the family at www.haudenshield funeralhome.com.
Source: Telegraph Herald (Dubuque, IA) – Friday, February 16, 2018